Fierce at Heart: The Trope Game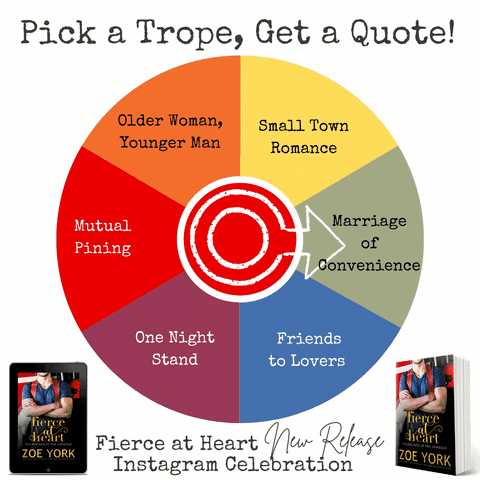 Instructions:
Pick a trope, get a quote! Click on the buttons to read a teaser from Fierce at Heart focusing on your favourite trope from this trope-tastic novel!
Fierce at Heart is a standalone novel in the Pine Harbour world. It's available in ebook and paperback at all major retailers.
Older Woman, Younger Man
Isla hated the idea that Adam was keeping things from her, but not for the same reason she hated secrets in her first marriage. She knew deep down, with intense clarity, that if he was hiding attraction to her, it was for her own good.
Small Town Romance
"Where do they all live?" She didn't really have a map of the town in her head, so where Adam pointed didn't make a ton of sense, but she liked listening to his voice. "Can you show me?" She didn't want to go to the cafe just yet. Couldn't finish falling in love with it just yet. She needed to see more of Adam's life here first. "Can we go for a drive together, so I can see your town through your eyes?"
He headed down to the harbour first, where she was expecting to see a ramshackle mechanic shack from the way he'd described it, but his brother Josh's garage was Instagram-perfect against the backdrop of the glittering lake. A whitewashed two-storey building with bright teal letters and an equally bright red muscle car parked out front, it was beautiful.
"On the outside," Adam said. "But his apartment is…it makes my kitchen look down right fancy." He gestured to the marina across the road. "That's where Seth docks when he flies in."
"He has a float plane?"
"Yep."
"And where does he live?"
Adam pointed northwest. "A hundred and fifty clicks that way. Spends all summer ferrying people to fly-in fishing and hunting lodges. He'll pick up charters from here, too, but there's more traffic out of the Sault and Sudbury, so his base is halfway between the two."
Small Town Romance